I have been playing with my monitor setup again on my Dell D530 laptop. The internal monitor of the laptop is 1400x1050 pixels, but I usually use a 19" external monitor set to 1280x1024. With Etch this worked flawlessly. When the external monitor was hooked up and the lid on my laptop was closed, then my desktop would be 1280x1024. When I booted with the lid open and no monitor attached, the desktop would be 1400x1050. When I upgraded to Lenny this stopped working. I had to change the resolution each time I changed from external screen to internal screen and back. I reported a bug about this but the answer came down to "It's not a bug but a feature. Use XRandR to change your displays if you don't like it."
So, I dove into XRandR. I wanted this to work for all users, so simply sticking some XRandR commands in the gnome session startup wasn't going to suffice. At the same time I also got interested in trying a dual-head setup instead of only an external monitor when one was connected. I was going to need completely different layouts depending on the external monitor. It took a while before I figured out how to do it, it took a little longer to fight GNOME into submission, but here is how to make it work.
Figure out the correct XRandR settings
I'm not going in to the gory details of XRandR. The Debian wiki has an excellent explanation of XRandR 1.2. It is possible to set XRandR configurations in the xorg.conf file but I didn't do that. Such a setup does not allow me to specify things like "If monitor X is attached, do Y else do Z". Here are the XRandR settings/commands that I want. LVDS is my internal monitor and VGA is the external 19" monitor.
When an external monitor is present, set up a dual head configuration. Note that I have placed the screens above each other instead of side-by-side and that they overlap by 26 pixels. That is because the Intel 945 chipset/driver only support a total combined size of 2048x2048 pixels. If you use any other driver or chipset (like an ATI or Intel 965) then you can use a bigger combined size, like 2560x1024 for two 19" monitors side-by-side.
xrandr --output VGA --mode 1280x1024 --pos 0x0 --output LVSD --mode 1400x1050 --pos 0x998
If you want to use only the external monitor then you would use this instead:
xrandr --output VGA --mode 1280x1024 --output LVDS --off
And this is the setting I want when there is no external monitor connected:
xrandr --output LVDS --mode 1400x1050 --output VGA --off
Applying the XRandR settings at login time
I want these settings to apply when I log in. Like I said, I do not put anything in the xorg.conf. When the laptop boots with an external monitor attached then the GDM login screen will be shown on all monitors. After logging in the dual head setup will be configured. To do that I created a file called 45custom_xrandr in /etc/X11/Xsession.d/. That script will be executed when an Xsession starts (after logging in to GNOME, KDE or any other desktop environment.
xrandr

|

grep

VGA

|

grep

" connected "

# External monitor is connected

xrandr

--output

VGA

--mode

1280x1024

--pos

0x0

--output

LVDS

--mode

1400x1050

--pos

0x998

# Something went wrong. Autoconfigure the internal monitor and disable the external one

xrandr

--output

LVDS

--mode

auto

--output

VGA

--off

# External monitor is not connected

xrandr

--output

LVDS

--mode

1400x1050

--output

VGA

--off
Now if you log in, the correct settings should be applied. Only it doesn't work on GNOME…
Stopping GNOME from overriding your XRandR configuration
As it turns out, GNOME tries to guess the best XRandR settings for you based on your connected monitors and the display configuration you set. But the GNOME 2.20/2.22 mix on Debian Lenny does not support a dual-head configuration. That option only became available in GNOME 2.24 and thus is not available in Debian Lenny. You need to turn off the XRandR plugin for the gnome-settings-daemon. Open up a terminal and start gconf-editor. Now browse to /apps/gnome-settings-daemon/plugins/xrandr and uncheck the "active" entry.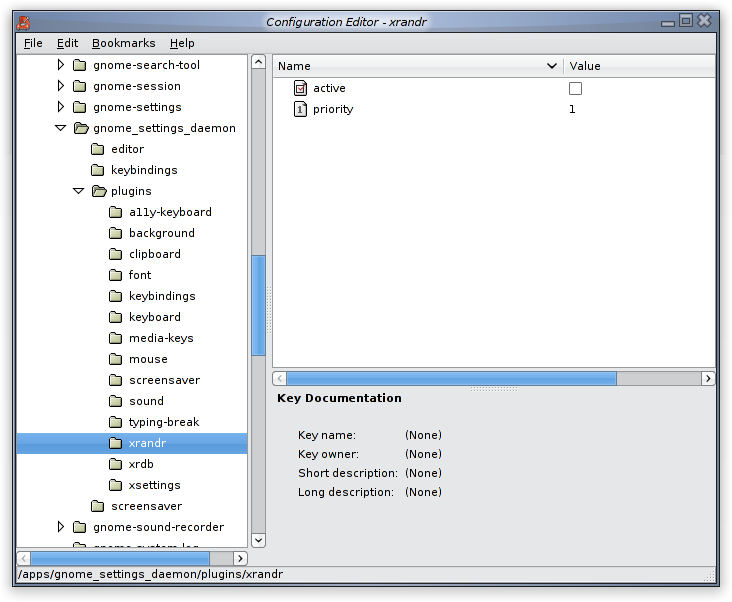 Now GNOME will simply adapt to whatever XRandR layout configuration already exists. Many thanks to jm_ and enouf on #debian to help debug this issue. I hope this helps any of you!
References
Digg this article: